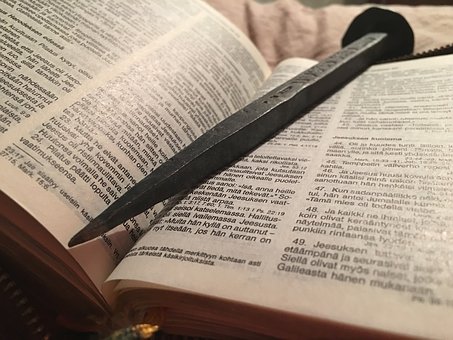 "Blessed are the peacemakers, for they shall be called the children of God." (Matthew 5:9)
Who are the Blessed?
In order to be called a child of God, you must first become one. That's only possible by believing on the Lord Jesus Christ. Spiritual blessing can only be found in Him, and only though Him can we reflect His character as a peacemaker.
But as many as received him, to them gave he power to become the sons of God, even to them that believe on his name: (John 1:12)
I am the vine, ye are the branches: He that abideth in me, and I in him, the same bringeth forth much fruit: for without me ye can do nothing. (John 15:5)
God is a Peacemaker
From the beginning, sin has separated us from God, and still separates those who do not know Christ. Sin has made us enemies of God. By it we are condemned to hell. Yet, in love, God sent His son to suffer the wrath that we deserve for sin. He made the way for our reconciliation to Himself. God, whom we offended, offers forgiveness. Through Christ's death on the cross, the sin debt is satisfied.
"My God, my God, why hast thou forsaken me?" That was the cry of the Savior, the Prince of Peace, the sinless Lamb of God, suffering the penalty of separation for us, so that we could be brought back to God.
But God commendeth his love toward us, in that, while we were yet sinners, Christ died for us. (Romans 5:8)
For he hath made him to be sin for us, who knew no sin; that we might be made the righteousness of God in him. (2 Corinthians 5:21)
For if, when we were enemies, we were reconciled to God by the death of his Son, much more, being reconciled, we shall be saved by his life. (Romans 5:10)
The Ambassadors of Peace
There can be no true lasting peace with men without peace with God. Therefore, the only way to make true peace with God and men is the proclamation of the gospel. Our words and action should all be working to lead people to the Savior. Jesus gave us the command to go into all the world to proclaim the message of salvation. We will be blessed if we do.
…God, who hath reconciled us to himself by Jesus Christ, and hath given to us the ministry of reconciliation; To wit, that God was in Christ, reconciling the world unto himself, not imputing their trespasses unto them; and hath committed unto us the word of reconciliation. (2 Cor 5:19-20)
…blessed are they that hear the word of God, and keep it. (Lk 11:28)
Have you been reconciled to God?
Have you surrendered to the Lord by trusting and receiving the gift of life in Christ Jesus? You can, by humbly going to Him. Believe on His Name.
…we pray you in Christ's stead, be ye reconciled to God. (2 Corinthians 5:20)
For the wages of sin is death; but the gift of God is eternal life through Jesus Christ our Lord. (Romans 6:23)