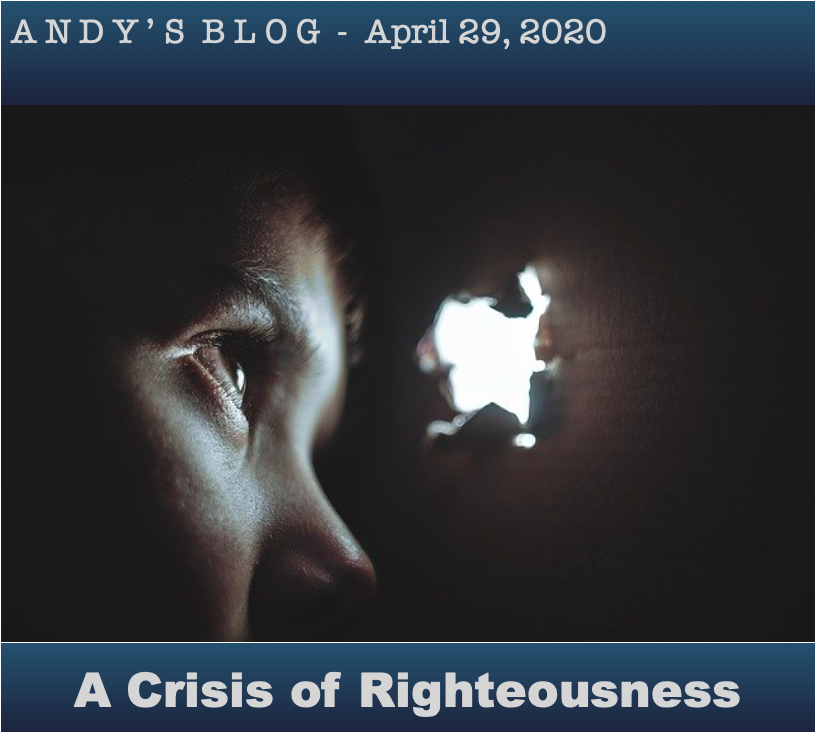 "For I say unto you, That except your righteousness shall exceed the righteousness of the scribes and Pharisees, ye shall in no case enter into the kingdom of heaven." (Matthew 5:20)
Who Can Get Into Heaven?
What shocking words these must have been to some of Jesus' followers. The religious leaders were in most people's minds the most connected with the things of God, yet Jesus said that their righteousness was not good enough for the kingdom of heaven. His listeners might have been thinking to themselves "If these guys aren't making it in, then how will I ever make it?" To make that statement even harder, Jesus says "Be ye therefore perfect, even as your Father which is in heaven is perfect." That would have sounded to some like the final nail in the coffin of hope for the kingdom of heaven.
These are some hard statements coming from the Lord, but they are so important because they tells us man's most serious problem, and they also lead us toward an understanding of what God truly requires in us.
The Perfect and Uncustomizable Law of God
We like to make thing more comfortable. We adjust and personalize things so that we can rest at ease. That is what the scribes and Pharisees were trying to do with God's law. God's law requires perfection. It requires us to love God with all our hearts, and to love our neighbors to the degree that we love ourselves. The problem is that we fail and can't live up to it. The law serves as a stinging, condemning reminder that man's heart has a disease called sin. Instead of admitting our inadequacy, and in order to ease the conscience and sooth the discomfort, we make a way to adjust the law down to our own comfortable standards by making a "righteousness" of our own that is more tolerant of sin. The problem though is that God's law hasn't changed. God is perfect in goodness, and He requires that in us.
"For verily I say unto you, Till heaven and earth pass, one jot or one tittle shall in no wise pass from the law, till all be fulfilled." (Matt 5:18)
"Jesus said unto him, Thou shalt love the Lord thy God with all thy heart, and with all thy soul, and with all thy mind. This is the first and great commandment. And the second is like unto it, Thou shalt love thy neighbour as thyself. On these two commandments hang all the law and the prophets." (Matt 22:37-40)
Enter the Hypocrite
So what does a man do? He knows God's law is good. He wants the self-assurance that he is on good terms with God. So instead of coming broken before God over sin, he plays the hypocrite, trying to keep the appearance righteousness, yet the condition of his heart remains unchanged. This is where Jesus points out man's real problem. Man doesn't not want to admit or turn from sin. It wasn't just the religious leaders, but this is the hypocritical game all men play before God. All who deny their sinful and inadequate state before God fall short of the kingdom of God, even if they appear to be a religious person. Man knows that God is good. Man knows that the thoughts of his own heart are sinful, so he puts on the face of innocence and hides his sin. That is why Jesus says that such "righteousness" cannot give man entrance into the kingdom of heaven because God requires true righteousness in the inner man.
"This people draweth nigh unto me with their mouth, and honoureth me with their lips; but their heart is far from me." (Matt 15:8)
"Behold, thou desirest truth in the inward parts: and in the hidden part thou shalt make me to know wisdom." (Psalm 51:6)
"And this is the condemnation, that light is come into the world, and men loved darkness rather than light, because their deeds were evil. For every one that doeth evil hateth the light, neither cometh to the light, lest his deeds should be reproved." (John 3:19-20)
What Should Man Do?
To be a sinner in the presence of a Holy God is a fearful thing. In self-deception man hides and pretends, thinking his sin won't being exposed, but God knows all things. A person can only hide for so long. Someday the judgement will come and there will be no place to hide. Every person will stand before God.
Now for the good news. Those who come into the light and admit their sin find something very wonderful about the God who requires perfection in us. The Bible says that the One who requires the perfect law also gave Himself for us as a perfect sacrifice for our sins. He lived, died, was buried, and rose again so that we could be forgiven and set free from the penalty of our sins. God did not bend his law one inch for our salvation. The perfect law was satisfied in Christ who lived a perfect life in our place and suffered the punishment for our sin. We have to stop avoiding God, abandon our own "righteousness" and be saved by the righteousness that Christ offers to us. Will you give up your love for sin and accept what Christ did for you? Don't hide from the truth, come to the Lord, confess your sin and receive the gift of God which is eternal life through Jesus Christ.
"It is a fearful thing to fall into the hands of the living God." (Hebews 10:31)
"And I saw a great white throne, and him that sat on it, from whose face the earth and the heaven fled away; and there was found no place for them. And I saw the dead, small and great, stand before God; and the books were opened: and another book was opened, which is the book of life: and the dead were judged out of those things which were written in the books, according to their works." (Revelation 20:11-12)
"For he hath made him to be sin for us, who knew no sin; that we might be made the righteousness of God in him." (2 Cor 5:21)
"He that believeth on him is not condemned: but he that believeth not is condemned already, because he hath not believed in the name of the only begotten Son of God." (John 3:18)
"For God so loved the world, that he gave his only begotten Son, that whosoever believeth in him should not perish, but have everlasting life." (John 3:16)